We are a professional tree-cutting service. We enjoy climbing trees and take immense satisfaction in providing our clients with long-term solutions for their tree issues. We take extreme measures to protect your yard and home, ensuring utmost safety throughout the process. As a woman-owned business, we strive daily to exceed expectations and set the bar higher than the rest. Our diverse team collaborates to deliver impeccable results that are photo-worthy every time.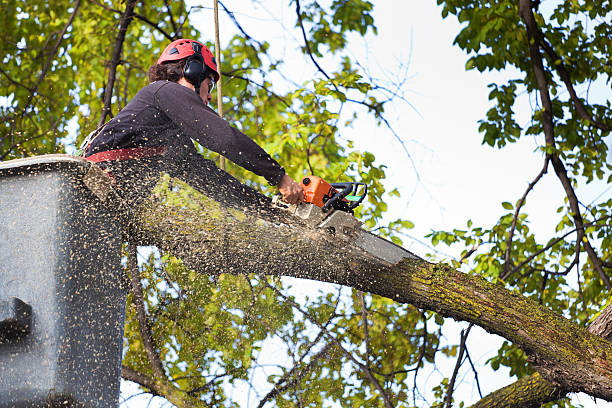 Mother Nature is diverse, as we all know, and trees are no exception. Some trees may be dead and pose a danger to the surrounding area. Others may be sick or damaged. Regardless of the cause, we are eager to lend a helping hand.
Client satisfaction is at the core of everything we do. With over thirty years of experience, our Tree Division is unparalleled in expertise and skill. We take pride in being the best in the industry, leaving no tree challenges unsolved.
Imagine your landscape free from the burden of hazardous or unwanted trees, replaced with a safe and vibrant environment that enhances the overall beauty of your property.
At our tree removal service, we prioritize delivering the highest standards of service and safety. When it comes to tree removal, we guarantee the following:
Safe and efficient tree removal – Our skilled team follows industry best practices to ensure that tree removal is executed safely and efficiently. We prioritize the safety of our crew, your property, and the surrounding area throughout the entire process
Environmentally responsible practices – we ensure minimal impact on the surrounding ecosystem. We strive to protect and maintain the natural balance while removing the tree.
Use of heavy equipment when necessary – For larger or more complex tree removal projects, we employ state-of-the-art heavy equipment to efficiently and safely remove trees. Our equipment allows us to handle even the most challenging tree removal jobs with precision and expertise.
Contact us today to book your free estimate and experience our exceptional tree removal service firsthand.
Reviews from real customers
" Great company. Brittany came out and gave me a good estimate on taking down several trees. The guys showed up on time and got the trees down quickly and safely. No damage or Issues like that, I highly recommend One, Two, Tree."
" Professional, very quick response, every job I've ever needed done immediately and correctly the first time. Great rates and friendly service."
" The crew trimmed several trees on my property. They performed the work in a timely and professional manner, did a thorough clean-up too!"
" They came out to cut down some trees that were too close to the roof of our house. The entire crew was extremely professional. "