Dealing with the aftermath of tree removal, tree trimming, and pruning on your premises can be overwhelming, leaving you in a constant battle with piles of debris. Transform your space from a cluttered nightmare to a pristine haven. We have the experience and equipment to remove debris quickly and efficiently, no matter how large or challenging the job may be.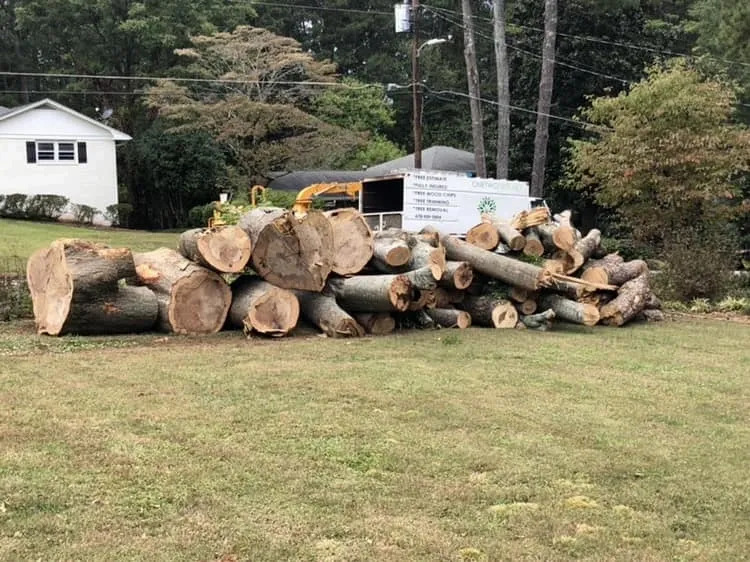 Our team of experts is highly trained and certified in all aspects of debris removal, including tree removal, tree trimming, pruning, and crane operations. We are also insured and licensed, so you can be confident that your property will be safe and secure during the debris removal process.
Debris removal can be a messy and time-consuming process, which is why we offer a variety of services to make the process as easy and convenient for you as possible. We are also experts in handling challenges specific to commercial properties, knowing the importance of swift and efficient cleaning to minimize disruption to your business operations and possible liabilities.
One of the key advantages we offer is our use of cranes. These powerful machines can easily lift and transport large and heavy debris, making the process faster and safer. With the help of cranes, we can access hard-to-reach areas such as rooftops or tight corners.
We also offer a variety of disposal options for your debris, including:
Disposal at a landfill
Recycling
Composting
No matter what your debris removal needs may be, our team of experts can help. Contact us today to schedule a free consultation and estimate!
Reviews from real customers
" Great company. Brittany came out and gave me a good estimate on taking down several trees. The guys showed up on time and got the trees down quickly and safely. No damage or Issues like that, I highly recommend One, Two, Tree."
" Professional, very quick response, every job I've ever needed done immediately and correctly the first time. Great rates and friendly service."
" The crew trimmed several trees on my property. They performed the work in a timely and professional manner, did a thorough clean-up too!"
" They came out to cut down some trees that were too close to the roof of our house. The entire crew was extremely professional. "